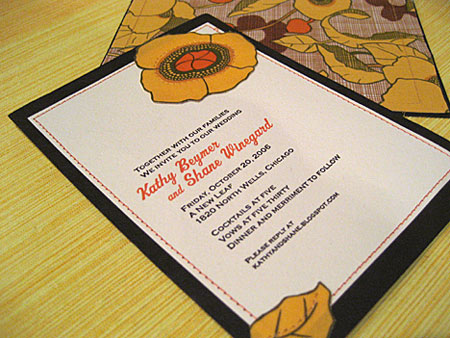 Something that I really love is sewing on paper. Well, I love the look of it. I haven't tried it yet (lazy!) but I really want to. What really kicked off this obsession was seeing Kathy's invitations (right) in
The Knot
magazine last fall when I was planning my wedding. She was so generous to
share her how-to, supply list, fonts, etc. to everyone
, all for free!
Here are some other cool examples I found:
Wedding invitation from
larawysong
@ Flickr via
Kate's Wedding
.
Simple but awesome Bar Mitzvah invitation from
Luscious Verde
.
Cute invitation by
doorsixteen
on Flickr
I like that this is a sewn booklet, but that they also did a thicker sewn trim on the covers. From
Tess McCabe
in Australia.
So this isn't really sewn in the photo, but would be an excellent candidate! This kind of added border sewn on can embellish almost anything. From
Tiny Prints
. (P.S. I really like the name Jack for a kid. So cute!)
It looks simple, but I'm not sure sewing a button on paper would be so easy. I think you'd have to do it by hand, and on some pretty thick paper. From
Better Homes and Gardens
.
OK, now it's practice time... :)